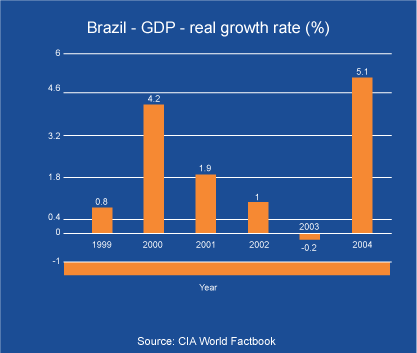 Brazil
Brazil's economy is one of the ten biggest in the world. It is the second largest economy in the Americas after the United States and is ahead of Canada, Mexico and Argentina.
The 1999 currency crisis led to a drastic depreciation of the Brazilian Real. In response, Brazil dropped its crawling-peg exchange rate regime and implemented a monetary policy that controlled inflation by setting interest rates.
In fact, three factors explain Brazil's economic recovery: the floating exchange rate, the inflation-targeting regime and its tight fiscal policy. As a result of these measures, Brazil has managed to stabilize its foreign exchange markets, reduce sovereign credit risk, and control inflation.
Also, the country's strong export performance has turned around its external current account. As a result, the economy is less dependent on foreign financing and can therefore withstand changes in market sentiment.
2004 was a record year for Brazil with stronger growth, increased employment and higher real wages. It had a record trade surplus and its first current account surplus since 1992. FDI increased by 79 percent and reached $18.2 billion in 2004 compared with India's $5.3 billion.
Today, there is a healthy and justified optimism in Brazil. This is due to the solid performance of the country's macro-economy resulting from increased exports to China, higher commodity prices, rising incomes and increasing demand.
The strong global demand for commodities ranging from iron ore to soybeans has led to significant improvements in Brazil's natural resource markets and has attracted a large number of investors from the chemical, fabricated metal, industrial machinery, computer equipment, mining and raw material manufacturing industries.
Many multinationals from wholesale and retail sectors to financial services are once again investing in Brazil. In 2004, Wal-Mart (USA) acquired Bom Preço, a local subsidiary of the Netherlands' Royal Ahold; Interbrew SA (Belgium) acquired Ambev to form Imbev, the world's largest beer maker by production volume and no. 2 by revenue. Global automotive companies, including General Motors (USA), Mitsubishi Motors (Japan) and Hyundai (South Korea), plan future investments in Brazil. With debt and inflation under moderate control in 2005, financial services are rethinking the Brazilian market. Indeed, Citigroup Brazil plans to add 62 new branch banks (Source: '2005 Foreign Direct Investment Confidence Index®', AT Kearney).
Despite this new confidence and optimism, FDI is still being impeded by heavy bureaucracy, high intermediation costs, the rigid labor market and regulatory uncertainties in several sectors.